Är du ett fan av 80-talet? Denna säsong hämtar BABOR
sin inspiration från vårmodets färgsprakande värld med
sportinfluerad design à la tidigt 1980-tal. Härligt tycker
jag som började sminka mig i andra halvan av just 80-talet.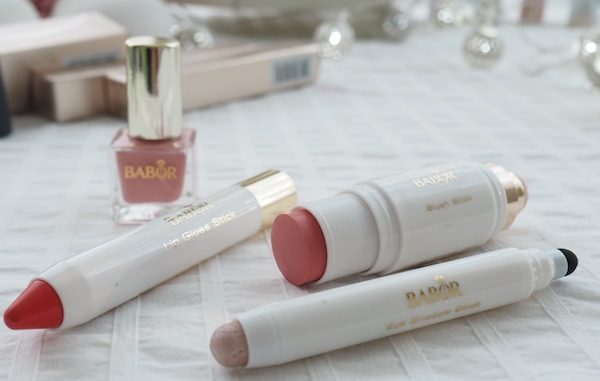 Jag gillar extra mycket kollektionens klara färger och att Babor vill att makeup ska vara kul, för det ska det. Det går i fruktiga nyanser, passar alla och dessutom är alla produkter vattenfasta vilket ger en extra lång hållbarhet, säger BABORs Make Up Director Peter Schmidinger. Vad jag kan se när jag tvättar bort mina swatches är det bara Eye Shadow stick som är vattenfast.
Förpackningarna är snygga, stilrena och praktiska. Både Blush stick och Eye shadow stick har applikatorer på produkten vilket gör dem hanväskemateriale för mig. On the go produkter kanske är ett bättre ord.
Lip Gloss Stick med tre olika effekter – Glansigt, matt och skimrande
Kombinationen av glansgivande lip gloss och återfuktande läppbalsam ger en magisk 2 i 1- produkt med long lasting formula som inte klibbar eller kladdar. Stiftet skruvas upp underifrån och ger därmed en enkel applicering. 
The Eye shadow sticks – Enkla, vattenfasta och med mycket glans.
Ögonskuggepennor i tre glansiga nyanser som är lätta att applicera. Med applikatorn kan tonerna lätt suddas ut och nyanserna Ivory Pearl, Malva och Mango går fint att kombineras tillsammans. 
Blush Stick – Enkel att använda utan kladd
Rouge i praktisk förpackning med applikator för smidig användning. Toner av persika och ros ger rosiga kinder, men kan även användas till läppar och ögon. 
Nail Color- Fruktiga nagellack
Högglans och lyster, hög precision vid applicering, snabbtorkande och hållbart – allt i ett. Fri från Toluol och Formaldehyd. 
Swatches från vänster: Lip Gloss Stick 05 papaya, Blush Stick 01 peach och Eye Shadow Stick 01 ivory pearl
Nail Colour 43 rose blossom
Jag har självklart testat alla produkter. Både Blush Stick och Lip Gloss Stick är mjuka i konsistensen och är lätta att applicera. De har bra pigment och hyfsad hållbarhet. Eyeshadow Stick är lite svårare att blanda ut. Den vita nyansen jag har sitter däremot berget som highlighter i inre ögonvrån och ger en pigg blick.
Lip Gloss Stick – 235:-
Lip Gloss Stick 04 pink lady
Lip Gloss Stick 05 papaya
Lip Gloss Stick 07 plum
Lip Gloss Stick 08 cherry
Eye Shadow Stick – 225:-
Eye Shadow Stick 01 ivory pearl
Eye Shadow Stick 02 mango
Eye Shadow Stick 03 mauve
Blush Stick – 225:-
Blush Stick 01 peach
Blush Stick 02 pink
Nagellack – 124:-
Nail Colour 43 rose blossom
Nail Colour 44 strawberry red
 Något du blir sugen på att testa?