Det är ju inte direkt någon hemlighet att jag blir sjukt inspirerad av många YouTubers och speciellt Kathleen Lights. Det känns som att jag nämner henne i var och varannat inlägg numera. Kathleen har samarbetat med Ofra Cosmetics och tagit fram två nyanser av Ofras Long Lasting Liquid Lipsticks – Miami Fever och Havana Nights. Nyfikenheten tog över totalt efter att även Jaclyn Hill hyllat Ofras flytande läppstift (hon gillar inte ens flytande läppstift, vilket gör henne extra trovärdig i mina ögon), så jag blev tvungen att testa. Använder man koden Kathleen30 får man 30% rabatt. Inte fy skam!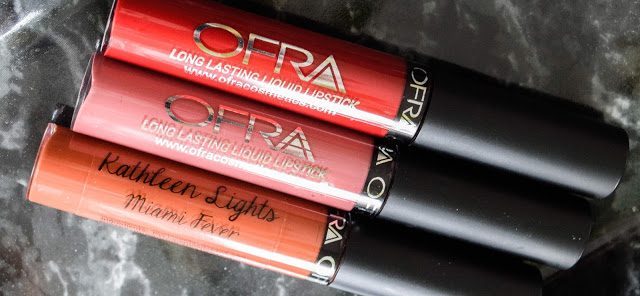 Flera, bland annat Kathleen och Jaclyn, har pratat om hur behagliga de här är på läpparna och hur de absolut inte torkar ut eller ger läderläppar. Jag har normalt ganska svårt att bära flytande läppstift med den här matta finishen eftersom mina läppar är naturligt "rynkiga" och lätt blir torra. Anastasias variant t.ex. känns som ett ökenfängelse på mina läppar. Gerard Cosmetics Hydra Mattes är däremot det enda som hittills har funkat på mina läppar.
Hursomhelst. Jag slog till på den blåtonat röda Atlantic City, den rosaneutrala Laguna Beach och den orangebruna Miami Fever (otroligt unik nyans, by the way).
ATLANTIC CITY
LAGUNA BEACH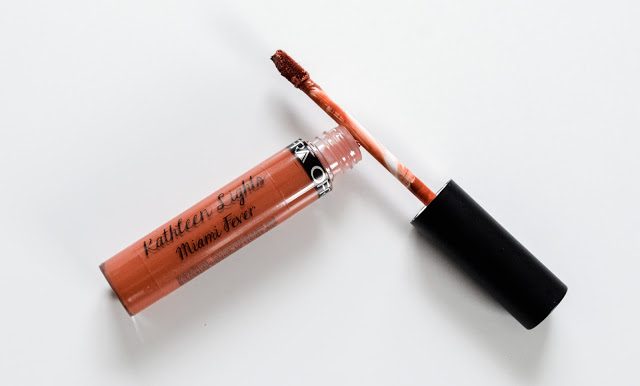 MIAMI FEVER
Applikatorn är av den klassiska "doe foot"-modellen med lätt snedställd sida. Den funkar helt godkänt att applicera produkten med, även om jag upplever att jag får för mycket produkt med när jag drar upp applikatorn och därför måste kleta av lite på insidan av förpackningen och istället får för lite produkt på applikatorn. The struggles en har liksom. Doseringen är alltså inte helt perfekt, men det är inte något jag stör mig på alltför mycket. Färgen blir opak utan större problem, formulan är inte för "moussig" så att den lämnar en tjock kant vid läppkonturen som vissa andra liknande produkter kan göra. Produkten torkar matt relativt fort, men inte för fort. Du har fullt godkänd speltid på dig att applicera, korrigera osv. Hållbarheten är godkänd, men efter en måltid behöver du bättra på. I stort sett oavsett vad du äter, så är du en sån som äter ditt läppstift kommer du förmodligen behöva bättra på även utan att ha ätit faktiskt mat/fika/whatever. Och så det viktigaste – hur de känns på läpparna: helt amazing! Eller snarare de känns inte alls. Varken torr eller matt eller stram eller klibbig eller extra mjuk eller eller eller. Det är som att du aldrig målat på produkten överhuvudtaget. Vissa gillar det, andra kanske inte alls tycker om det. Jag hör till den första kategorin.
Jag älskar nyanserna jag valde. ÄLSKAR med extra stora versaler och trettiofem utropstecken.
Laguna Beach är en perfekt neutral MLBB-nyans för mig.
Atlantic City är den där klassiska röda nyansen som passar alla och dessutom gör att tänderna ser vitare ut. What's not to love liksom.
Miami Fever gör mig nästan mållös. W-O-W! En orangebrun nyans låter inte nödvändigtvis supersmickrande. Det låter snarare väldigt svårburet. Men icke! Så himla perfekt och unik nyans som jag känner mig riktigt snygg i. Väldigt nineties.
LAGUNA BEACH – ATLANTIC CITY – MIAMI FEVER
Long Lasting Liquid Lipstick kostar $19,90/styck ($13,93 om du använder koden Kathleen30, gäller på hela sortimentet) och finns enbart att klicka hem från Ofras egna webshop. De skeppar dock till Sverige (fraktavgift ca. $14).
I betyg får de en stark 4:a. Hållbarheten hade kunnat vara bättre, i övrigt är de helt perfekta.